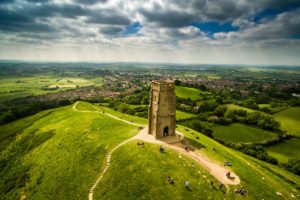 Glastonbury is a small town in Somerset (England), located 30 miles south of Bristol. It is in the Mendip district.
The city is famous for its ancient history, the abbey's remains, Glastonbury Tor and the several legends and mythsassociated with it. It is also known for the Glastonbury Festival, a pop / rock music festival that takes place every year in the nearby Pilton's village.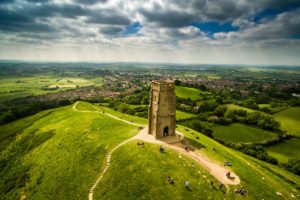 Moreover they say that it is many ley lines' centre, or rather, some places' hypothetical alignments of geographical interest like monuments and megaliths, for example.
Joseph of Arimathea's legend is linked to the idea that Glastonbury was the Christianity's birthplace in the British Isles and the first church's location, built in order to safeguard the Grail more than 30 years after Jesus' death. Legend also says that Joseph of Arimathea had previously visited Glastonbury along with Jesus, when he was a child. The English poet and painter William Blake believed in this legend and wrote a poem that became the most popular English patriotic song Jerusalem.
It is said that Joseph came to Glastonbury by ship, landing at the Somerset Levels, which were inundated.
He planted his staff on the ground, which miraculously blossomed in Glastonbury Hawthorn ("Holy Thorn"). This is the mythical explanation for the hybrid's existence, which grows only a few miles around Glastonbury. It blooms twice a year, once in spring and another during the Christmas period (depending on the weather). Each year a thorn is cut and sent to the queen in order to decorate her Christmas table.
The original "Holy Thorn" was the pilgrimages' object in the Middle Ages, but it was later destroyed during the English Civil War (according to legend, the parliamentarian soldier who carried out this action was blinded by a splinter). A new hawthorn was planted in the twentieth century on Wearyall Hill (it had to be replanted again in 1952, the previous year's attempt had failed).
Medieval propaganda associates King Arthur to this city, making it coincide with the legendary Avalon. In 1191, his abbey's monks said they had found King Arthur and Geneva's tombs south of the Lady Chapel present in the abbey church. The remains were later moved and lost during the Reformation. Many academics suspect that this discovery was a forgery in order to give credence to Glastonbury's ancient origin, increasing its fame.
Nowadays, Glastonbury is a religious and pilgrimage centre, where mysticism and paganism coexist, not without difficulty.